What is your business profile?
The business profile helps ensure all your business data is available to the different systems in your business center to utilize. This is especially important for the Listing Builder system. Utilize your business profile to make changes to insurances you accept, changes in address, office hours and more services that you offer.

Keep the business profile up to date to synchronize your business information out across the internet in real time. Use this one area as the place to keep your business location details up to date.
Should I fill out everything?
It is VERY IMPORTANT to complete your business profile as accurately and COMPLETE as possible. Your account manager will assist you with setting the correct SEO keywords. Please complete the following areas:
General information
Professional record (for the owner or co-owner of that location)
Hours of operation
Additional business information
Map (you can relocate the pin if needed)
Additional contact information
Marketing and search information (have your digital strategist help you)
Social account links (link all that you can, again your digital strategist can help you)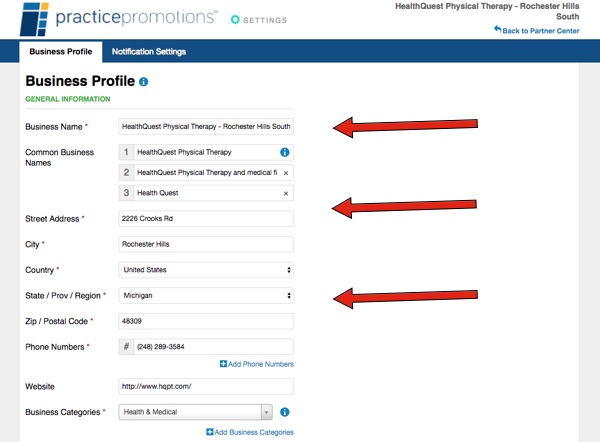 Do I need to fill out business profile for each location?
YES, this is very important, as each location online is consider it's own entity. Make sure the correct phone numbers, address, and business information is entered for that location. Make sure to have a unique description for each location. Your digital strategist can assist with you with setup if you have questions.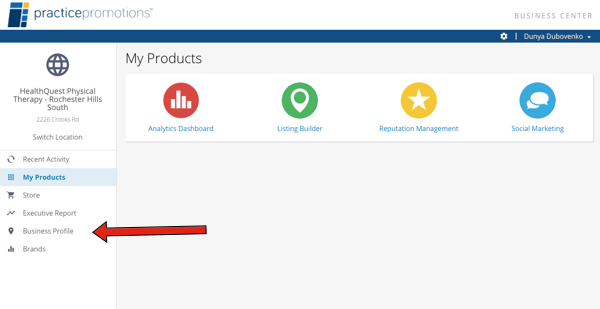 How to access your business profile
The business profile can be accessed in a variety of areas.
Directly from the main dashboard page on the left sidebar
Click on the cogwheel at the top right of the screen next to your name
In listing builder module click on the business profile tab
For multiple locations, click on the brands wording on the left sidebar, then click on the dropdown button next to the location
When should I update my business profile?
Data is synchronized real time with listing distribution service and listing sync pro + yext. It is ideal to update your business profile on all locations in order to make sure your business information is correct in front of thousands of viewers on hundreds of different phone apps and navigation systems.
Update business hours and holiday hours
Change insurances or different payment methods you accept
You add on any new services
You accept new brands you are selling such as theraband, or exercise equipment
You change office locations
Add or change phone numbers