The Business Center is a fantastic tool that is provided with your monthly premium, platinum, or ultimate website subscription. We provide ongoing training through our webinars, so make sure to look out for those and sign up for the different training topics covered.
The business center is your central hub for the following:
Listing Builder - The listing builder is a powerful tool, that takes your business profile information and synchronizes it out onto the 4 main internet data providers and 73 major directories and review sites. This means your business information is distributed onto hundreds of phone apps, maps and even car navigation systems. Information is synchronized real time and even protects against your business information (such as your phone number or website) from being changed by a competitor or accidentally.
Reputation Management System - This system allows you to gather reviews through the email system and your website. It provides a gateway to gather reviews from your website and filter negative reviews from being distributed online. It also helps you see the reviews that are coming in and allows you a direct way to respond to the person, thanking them for the review and allowing an opportunity to ask for a patient referral.
Social Media Marketing Center - This system allows you to easily create social posts one time that can be distributed across all your social media accounts. It also is the area where your scheduled posts can be viewed and edited. Marketing directors of practices will love this feature to make it easy to leverage social media and control what is sent out on social media to build your followers.
Marketing Analytics Dashboard - This system allows you to view the improving rankings of your clinic's SEO on Google, google local and mobile. In addition, get real time data on the visitors to your website, where they are coming from, how your email campaigns are performing, social media performance, ads and so much more.
*As with any other systems and tools, the business center is only as good as your familiarity and use of it. Make sure you and your team work with your digital strategist to learn the systems and implement as much as possible for maximum results.
How to access
You can easily access your brand center by typing in your website URL + /businesscenter or https://login.ptperformancewebsites.com
How it works
You have a business center for EACH location in your practice. This is because each location is a unique address, and listings as well as reviews need to pull from each physical location. We will help you setup each location and connect social media accounts as well as Google My Business and other review sites to your business center for each location.
Manage all locations with Brands
You can manage your whole company and multiple locations by clicking on Brands in the left sidebar. This will be setup for you if you have multiple locations to manage. The brands area allows you to analyze reports and information about reviews, listings and send out social postings from one convenient area. You can easily switch to different locations from the pop up window after clicking brands, or get to a variety of different features by selecting the drop down menu next to the location.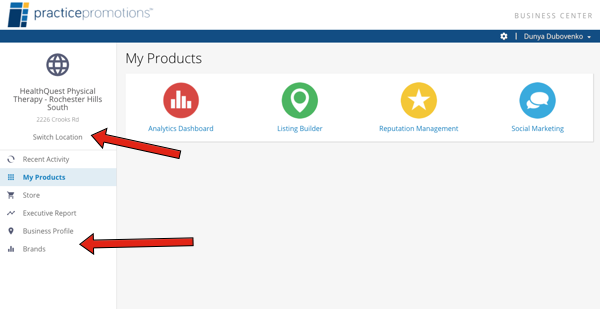 You need to make adjustments to the business profile of a particular location or send out reviews, you will do so from each location business center page.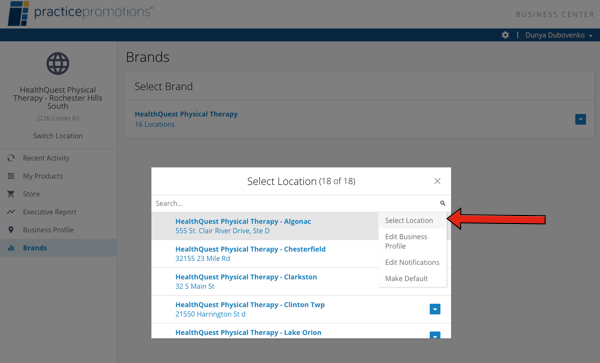 Switch locations
You can easily switch locations to get to the different business center homepage for that location by clicking on the switch location wording under the address on the left sidebar. You can also click on the brands area, then click on the right blue down area to get to the different selections for that location, or click on the location itself to get into that specific location business center.
Business profile
The business profile is where you are able to have information on your location, address, hours, insurances you take and much more. The MORE COMPLETE the better for your SEO and systems.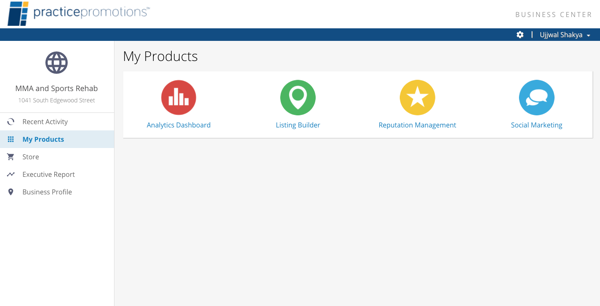 Navigation
In the my

products

area you will see the four main buttons to access your different areas
On the left side bar you will use the my products tab, executive report and business profile most often
Once inside one of the modules, you can also navigate to all the different sections from the drop down menu on the bar at the top of the screen